In response to the current pandemic, Corrigo introduces two new features to help our customers: COVID-19 Work Order Tracking and a new 'Specialty Selection' for CorrigoPro COVID-19 Cleaning and Disinfecting Services, for the US and Canadian markets. There are no additional fees to use these new tools. This is our initial attempt to help you manage your facilities during this difficult time. We continue to monitor your needs and listen to your requests, and we will make further adjustments as appropriate related to your changing needs.
COVID-19 Work Order Tracking
This new field enables you to categorize/track any work order related to COVID-19. The field will help you track costs associated with the pandemic and, thereby, support efforts to plan for future disasters. You can also retroactively tag existing work orders using this new field.
Important: this is an optional field. If you would like us to add this field to your instance, you must contact us directly. Once confirmed, updates will be made within two business days of opting in.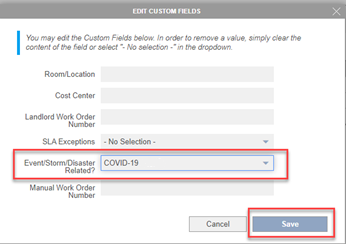 Key Resources for Preventing and Combating COVID-19
Corrigo Tools for Fighting COVID-19
COVID-19 Reporting
Reporting is a powerful tool that allows you to pull real time data for review. Targeted Reporting, specifically for COVID-19 Work Orders, can be used to help:
Track costs associated with the pandemic support efforts in order to plan for future disasters
Get insights into performance and work done by COVID-19 Cleaning Vendors or In-house Maintenance Staff
Building reports can be tricky, but here are a few steps to get you started! To help you with this effort, we have created sample reports for you to download that you can download here.
Click here to download instructions to upload a report.
To create a report for COVID-19, click on the Reports Module and select list.
Create a new report by clicking on the + icon at the top of the page.
All data fields for the report can be up to the user to fill out, with the exception of the Template (needs to be Work Order>Work Order Details) and the Type (needs to be Tabular).
To report specifically on the COVID-19 Cleaning Specialty, go to the filters section and add Specialty to the filter. Select COVID-19 Cleaning as the specialty to report off, and the report that will generate only looks for those work orders.

Other suggested filters for COVID-19 include, Assignee Screen Name to filter out service providers as well as the Work Order Custom Field that you created for COVID-19 work orders.

The Data Fields in the Reports section will be the Columns on the report.

The following are the recommended data fields: WO#, Work Description, Specialty, Status, Assignee Screen Name, the custom field for COVID-19 and Priority.
Other Data Fields can be added if the user would like more granular information.
Report Subscriptions can be configured on any COVID-19 reports. These subscriptions will allow multiple people to receive the reports based on a schedule (weekly, daily, etc.) so that appropriate people can monitor status on a regular basis.
COVID-19 Preventative and Recurring Maintenance
Some recommendations for your PMRM schedules as they pertain to COVID-19 would include:
Using a procedure template specific to COVID-19 cleaning guidelines set up by the CDC,
Implementing the COVID-19 Cleaning Specialty
Manually assigning the Service Provider to be a COVID-19 Cleaning Service Provider
Setting up a schedule as a Visit. Visits allow you to schedule specific times it is expected for a tech to be on site and allows for multiple check-ins on one work order
Mass Managing COVID-19 Work Orders
Mass Managing work orders is a powerful tool that allows you to take a tedious task and complete it in a much faster, user-friendly way. You need to have the correct list view set up using the filters on the work order list view. Once you have the correct view set up, click on the mass manage icon at the bottom left of the page. : You may want to re-assign work orders, send a message, or add the COVID-19 custom field to Work Orders. You can achieve all of this in the list view via mass manage.
Using Incident Reports for COVID-19
Incident Reports keep all COVID-19, or other incident-related items, in one area. After you establish a report template with Incident Categories, Types, and Customer Fields, you can quickly create a report for a Work Zone/Property to keep all COVID-19 Work Orders and communications in one location.

This tools allows you to assign specific documents and To-Do Lists, ensuring all tasks are completed. It also makes Work Order creation for the property more efficient.
You can also have a distribution list associated with the Incident Report, which will receive notifications when reports are created and updated.
COVID-19 Procedure Templates
A Procedure Template is a list of instructions for a Tech to follow, and check off, as they complete tasks associated with the work order. Create Procedure Templated thru the back office, and tailor to your specific needs.

Assign Procedure Templates directly at the asset level, or attach to line items on the work order.
For COVID-19, add step-by-step instructions to the work order for Techs to follow.
If you have any questions or concerns, please don't hesitate to reach out to our expert Support Team at: support@corrigo.com or 1.877.701.8326.